Tsuchihashi performs as Trinity Visions at Bowako Jazz Higashi-Oumi
'Æ‹´‰ë"Ž'ª TRINITY VISIONS 'ŁA'т킱ƒWƒƒƒY"Œ‹ß]'ɏo‰‰'µ'Ü'·I


DAY & TIME

Sep. 24th (Sat), 2022
@@show time: 14:00 - 14:40

—ߘa'S"N@'XŒŽ'Q'S"ú("yj
‰‰'tF ŒßŒã'QŽž | 'QŽž'S'O•ª


PLACE


Yohkaichi Community Center Hall
"ª"úŽsƒRƒ~ƒ…ƒjƒeƒB[ƒZƒ"ƒ^[ƒz[ƒ‹
iƒRƒ~ƒZƒ"ƒz[ƒ‹j


CHARGE

Free
–³—¿




TRINITY VISIONS
ƒgƒŠƒjƒeƒB[Eƒ"ƒBƒWƒ‡ƒY

Bll Evans, Scott LaFaro & Jeff Watts 'ɃIƒ}[ƒWƒ…'ð•ù'°A
ƒsƒAƒmEƒgƒŠƒIŠv–½'ÌŒ´"_'É–ß'è''AŽ©—R'É•Ï—e'·'é
V'½'ȃWƒƒƒY'Ì–¢—ˆ'ð–͍õ'·'éƒRƒ"ƒ{B
uheyE'Æ‹´ '̃IƒŠƒWƒiƒ‹'ƃXƒ^ƒ"ƒ_[ƒh'ð
—B–ì'Ì"M'¢ƒOƒ‹[ƒ"'ɍڂ¹'āAƒƒƒfƒBƒAƒX'Ƀ\ƒEƒ‹ƒtƒ‹'ɁI
\"ñ•ª'ÉŠy'µ'ñ'Å'¸'¯'鉉't'ð'¨"Í'¯'µ'Ü'·B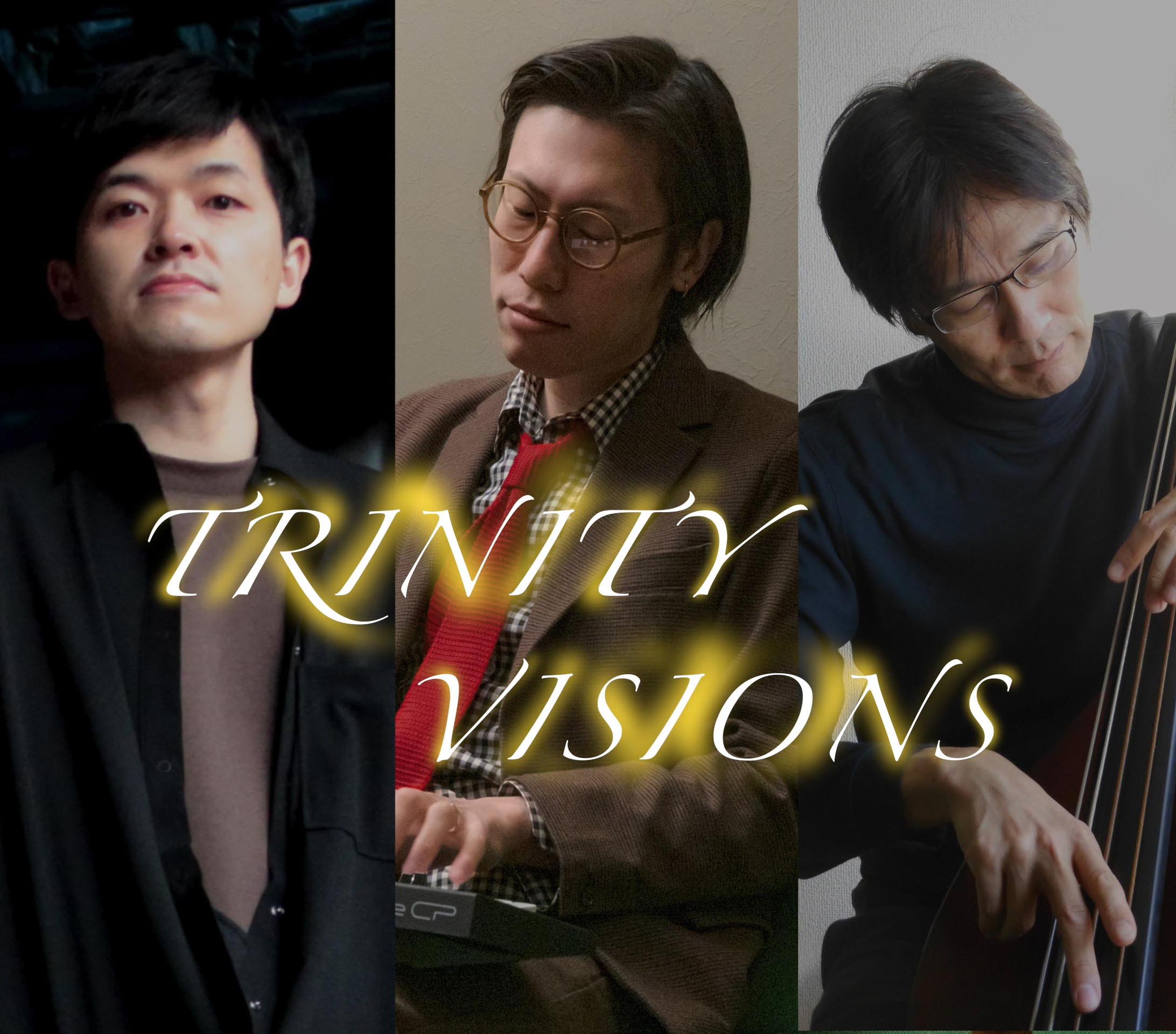 TRINITY VISIONS: Live Video at Ashiya Jazz Festival
TRINITY VISIONS LIVE VIDEO 2021



MEMBER


Piano: You-Hey
ƒsƒAƒmFuhey
uhey's pfofile

Drums: Toshiki TADANO
ƒhƒ‰ƒ€ƒXF—B–ì•q¶

Contrabass: Masahiro TSUCHIHASHI
ƒRƒ"ƒgƒ‰ƒoƒXF'Æ‹´‰ë"Ž


ŸTSUCHIHASHI Mashiro
Began to play Blues guitar at age of 12, Tsuchihasi changed his musical insturment to contrabass at age of 20. Soon, he became to play jazz standards at clubs in Kyoto and Kobe, Japan.
In 1987, he moved to New York to study film making, and also he learned jazz ensemble skills from Lee Konitz. Tsuchihashi did many gigs and sessions with many musicians in New York. Later, he attended Pat Metheny, Larry Grenadier and Antonio Sanchez's workshop in order to deepen his musical skills for the composition and improvisation.
After he came back to Japan in 1991, he did street perfoemances in front of Studio Allta (Sinjuku) and gigs at jazz clubs around Tokyo area.
In 1999, he created original sound track for his first directed movie; "TRUTHS: A STREAM" which won a special mention of Woldgang Staudte Prize in Berlin International Film Festival
In 2011, he released piano trio album " The First Meeting" under the name of THE REAL JAZZ TRIO, and he began to play piccolo basses whiches are heard in original jazz suite CD "The Kobus Passion" in 2013.
In 2015, he released acoustic duo CD, "Tune for Pat" with Armenian-Australian guitarist; Kris Tcheupdjian.
Recently, he mostly plays in two piano trios; TRINITY VISIONS and THE THREE WISHESAguitar trio; TMT JAZZ TRIO, and vocal trio; SOUL STIRRING CATS.

Ÿ'Æ‹´‰ë"Ž @
‰f‰æŠÄ"^ƒWƒƒƒYEƒx[ƒVƒXƒgB12Î'©'çƒuƒ‹[ƒXEƒMƒ^\'ðŽn'߁A20Î'ŃRƒ"ƒgƒ‰ƒoƒX'É"]Œü'µA‹ž"s'𒆐S'ɃWƒƒƒYEƒNƒ‰ƒu'щƒCƒuŠˆ"®'ðs'¤B1987"N'©'ç4"NŠÔƒjƒ…[ƒˆ[ƒN'Ö—¯Šw'µ‰f‰æ»ì'ðŠw'Ô–T'çAƒŠ[EƒRƒjƒbƒc'ÉŽtŽ–BŒ»'nƒ~ƒ…[ƒWƒVƒƒƒ"'Ɛ"X'̃ZƒbƒVƒ‡ƒ"'⃉ƒCƒu'ðd'Ë'½ŒãAƒpƒbƒgEƒƒZƒj[Aƒ‰ƒŠ[EƒOƒŒƒiƒfƒBƒG[ƒ‹AƒAƒ"ƒgƒjƒIEƒTƒ"ƒ`ƒFƒX"™'ÉŽtŽ–B
"ú–{'Ö'Ì‹A'ŒãAŠÖ"Œˆê‰~'ł̃‰ƒCƒuŠˆ"®AVhƒAƒ‹ƒ^'O'ł̃XƒgƒŠ[ƒgEƒpƒtƒH[ƒ}ƒ"ƒX'ðs'¤B"Á'Ƀ‰ƒCƒuƒnƒEƒXuVhƒJ[ƒjƒoƒ‹v'ł́AuƒŠƒAƒ‹EƒWƒƒƒYEƒJƒ‹ƒeƒbƒgv–¼‹`'Ì'èŠúƒ‰ƒCƒuƒpƒtƒH[ƒ}ƒ"ƒX'ł́Aƒ}ƒŠ[ƒ"'â"n•Ó'å'j'𔲂¢'āA"NŠÔÅ'½‹»s¬Ñ'ð—g'°'él‹C'𔎂µ'½B
1999"NAŽ©g'̏‰ŠÄ"ì•iwTruths: A Streamx'ł́AŽ©'çƒTƒEƒ"ƒhEƒgƒ‰ƒbƒN'ð'nì'µA"¯ì'̓xƒ‹ƒŠƒ"'Û‰f‰æÕ'ɂă"ƒHƒ‹ƒtƒKƒ"ƒOEƒVƒ…ƒ^ƒEƒe"Á•ÊÜ'ðŽóÜB
2011"NAƒsƒAƒmEƒgƒŠƒIuREAL JAZZ TRIOv'̃Aƒ‹ƒoƒ€wThe First Meetingx'ðƒŠƒŠ[ƒXB"¯"N'æ'èƒsƒbƒRƒEƒx[ƒX'ðŽn'ß'éB
2013"NAƒsƒbƒRƒEƒx[ƒXAƒtƒFƒ"ƒ_[Eƒx[ƒXAƒRƒ"ƒgƒ‰ƒoƒX'ð‹ìŽg'µ'½AƒIƒŠƒWƒiƒ‹EƒWƒƒƒY'g‹È'̃Aƒ‹ƒoƒ€wThe Kobus Passionx'ðƒŠƒŠ[ƒXB
2015"N'ɂ́AƒAƒ‹ƒƒjƒAŒnƒI[ƒXƒgƒ‰ƒŠƒAlƒMƒ^ƒŠƒXƒg'̃NƒŠƒXEƒ`ƒ…[ƒvƒWƒƒƒ"'ƁAƒAƒR[ƒXƒeƒBƒbƒNEƒfƒ…ƒICDuTune for Patv'ðƒŠƒŠ[ƒXB
‹ß"N'ÍŽå'É"ñ''̃sƒAƒmEƒgƒŠƒIAuƒgƒŠƒjƒeƒB[Eƒ"ƒBƒWƒ‡ƒ"ƒYv'ƁuƒUEƒXƒŠ[EƒEƒBƒbƒVƒYvAƒMƒ^[ƒgƒŠƒIAuTMT JAZZ TRIOv‹y'сAƒ{[ƒJƒ‹EƒgƒŠƒIuƒ\ƒEƒ‹EƒXƒ^[ƒŠƒ"ƒOEƒLƒƒƒbƒcv'ÅŠˆ"®'µ'Ä'¢'éB

ƒƒCƒN'Å'àƒOƒ‹[ƒ"'µ'Ë'¦'₃@'¢'邺I
(C) 2004-2022 ART OF WISDOM Co., Ltd, TSHUCHIHASHI Masahiro and DEGUDCI Takako
All Rights Reserved